The village of GRINDELWALD in Switzerland's Bernese Alps is said to be the gateway to the Jungfrau Region, it is bordered by the north face of the Eiger and the Wetterhorn and is known locally as 'the vibrant Eiger village'. This village does not disappoint, it has some of the most spectacular views and dramatic glaciers, pretty chalet-style houses, cafes, restaurants, and a good variety of shops too!  Activities and wonderful walks are a plenty and a cable-car ride is a must for a different perspective of this amazing region.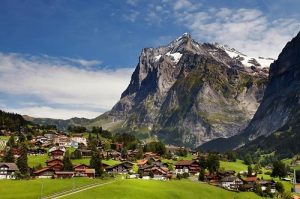 The delightful medieval town of THUN will capture your heart, ideally positioned close to the crystal-clear blue waters of Lake Thun. Here you'll discover a laid-back, relaxed atmosphere with cobblestone alleyways lined with elegant historic houses, a hilltop castle, a 14th century church and many historic river bridges which link the town together.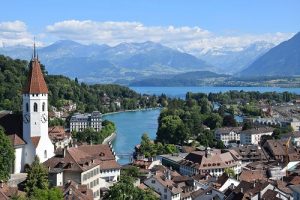 JUNGFRAU RAILWAY – the mountain train to the "Top of Europe"! Climb the north face of the Eiger, traverse the Mönch and scale the Jungfrau to an altitude of over 11,000 feet all by the comfort of a train. The station at the top is the highest in Europe and has the most spectacular view in the Alps.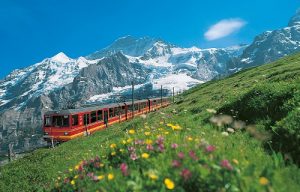 The BRUNIG PASS at an altitude of 1008 metres, connects the Bernese Oberland to central Switzerland, we travel this scenic alpine road on route to Lucerne.
The compact city of LUCERNE sits amid snow-capped mountains on the banks of beautiful Lake Lucerne. The colourful Altstadt (Old Town) has many historic houses with frescoes lining the picturesque squares and surrounded by the 14th century ramparts. The famous centrepiece of the city is the medieval, covered Kapellbrücke (Chapel Bridge), this wooden bridge, said to the oldest in Europe, links the Old Town to the right bank of the River Reuss.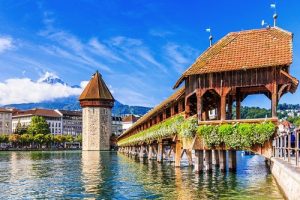 INTERLAKEN is set between the sparkling waters of Lake Thun and Lake Brienz and enjoys a magnificent setting on the banks of the River Aare with the snow-capped peaks of the Jungfrau, Mönch, and Eiger forming the perfect backdrop. The main promenade, the 'Höheweg', is lined with flowers and fronted by a huge open meadow from where you can enjoy one of the most famous views in the world.